Welcome
WELCOME! Lorraine Torrence Designs offers patterns, fabric, books, ideas and more to help, teach, and inspire you in your quilting making and creative Garment making. Join me here for learning, fabric lust, and love of everything fiber!


Email List
Subscribe to my new email list to read about upcoming classes and special events, sales on patterns and other merchandise, design lessons, and even technique how-tos!
Subscribe
November, 2018
Of special note!!

The Holidays are upon us and, like many of you, I will be heading out of town. I will be away from the office and unable to fill your orders between December 17, 2018 and January 4, 2019. If you wish to place an order, I strongly advise you to do so before December 16 or expect to wait until after Jan. 4 for me to fill it. BEST WISHES FOR THE HAPPIEST OF HOLIDAYS TO ALL OF YOU!
Calendar
Be sure to check out the newly formatted and updated calendar/schedule with upcoming classes and events listed, including descriptions, locations and links to pages where you can register! http://www.lorrainetorrence.com/schedule.htm
Patterns of the Month
Through January, 2019, we are featuring three different patterns for you to try out at a 25% discount! Lorraine Torrence Designs pattern, Talk of the Town, is a fun to make, shirt pattern in two lengths using 5 different fabrics reminiscent of patch work. Grainline Gear's Long and Short of It, designed by Gina Bronow and modified by Lorraine, is a simple, shawl-collared reversible jacket in two lengths which can be pieced with an easy, strip-pieced unit or made in one reversible fabric layer. The longer length has a clever welt pockets that reverses to a patch pocket. Sunspots, from Lorraine Torrence Designs Quilt Pattern Series, designed by Amalia Magaret, is built of easy to piece curves and creates illusions of overlapping layers you can make in three sizes! Enjoy all of these December and January Patterns of the Month and enjoy Winter evenings at your sewing machine! Just click on the pattern name above to buy it!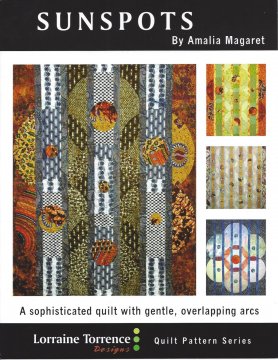 DVDs

My Sewing With Nancy videos, Fashion Sewing: Plain to Fabulous from the two Shows, which aired in January of 2017, are still available in the Wisconsin Public Television website. You will also find a DVD of the two Fashion Sewing: Plain to Fabulous shows on this website for the August reduced price of $10!