Quilt Workshops


COLLAGE CURVES MINI-QUILT
Workshop Format: 1 day

Description: Use one of Lorraine's Collage Curves Mini-Quilt Series patterns to make a 15" square quilt in this one day class. Learn the technique for doing curvy edge shapes, raw edges together, with self made bias tape covering the raw edges. One pattern free with class. Kits available in class.











COLLAGE CURVES QUILT DESIGN

Workshop Format: 2 days

Description: On a muslin and/or batting foundation, draw a curvy line design, then cut your fabric to match it. Cover joining places with self made bias strips that you top stitch in place. Make an original wall hanging in this exciting workshop that encompasses design, piecing, some "flip and sew" foundation piecing, and bias-joined curves.











IMPROVING THE CHECKERBOARD

Workshop Format: 2 days (about 6-7 hours each day)
(Could be condensed to a one day class omitting the opportunity to work on the quilt by combining the parts)

Description: Learn several variations on the traditional checkerboard motif. Learn how to combine all your samples in a wall quilt that is unified and interesting. Along the way, explore important lessons in color, composition, scale and other formal elements that artists in all media use regularly. Technical lessons too!










DESIGNING WITH A SINGLE SHAPE

Workshop Format: 1 day (6-7 hours)

Description: Using a single shape, such as a triangle, square, rectangle, or hexagon, design an original composition on the wall. Emphasis will be on simple but effective design principles to produce your own fabulous work of art! Precut your fabric into your chosen shape to get a head start on this information-packed, one day class.







ORIENTAL INFLUENCES

Workshop Format: 1 day (about 6 hours)
(Could be done as a two day class)

Description: Using a single shape and Japanese (or Japanese-like) fabric, develop an original composition on the wall. Explore Japanese design principles, new fabric compositions, and original patterns.







SLASH AND SEW: AD LIB PIECING FOR INLAYS

Workshop Format: 1 day (6-7 hours)
(could be done as a two day class)

Description: Do you ever get tired of templates? Or even precise planning with quick techniques? This class will show you how to do "ad lib" piecing so that can scatter pieces over the surface and piece them into a background where you want them to be so they seem to float. Make a practice sample or a small wall quilt in the one day class or a larger wall quilt in the two day class.










MULTI-VIEW IMAGES (SHIFTING PERSPECTIVES)

Workshop Format: 2 days (about 6 or 7 hours each day)

Description: Most traditional quilts are made with a repetitive block. Using the Multi-view multiplying lens, find grid and block patterns in the world around you to make an innovative quilt using a repetitive block that changes slightly every time you repeat it. From nine 15" blocks, cut 12" blocks from different parts and use the scraps for borders.










WATERCOLOR QUILTS (COLORWASH)

Workshop Format: 1 day (6-7 hours)

Description: Dissolve the hard edges of traditional quilts. Using Liberty of London or other multicolor print fabrics, make a small wall quilt using the "colorwash" technique developed by English quiltmaker, Deirdre Amsden. Your quilt will have a soft water color quality and you will learn valuable lessons in color and value. Look at slides of Neo-Impressionist Pointellist paintings for inspiration.







GETTING A HANDLE ON DESIGN PRINCIPLES

Workshop Format: 1/2 day (3 hours)

Description: No matter which visual art form you chose, learning to use the formal elements of composition (color, value, scale, etc.) is important. Regardless of the style of quiltmaking in which you express yourself - traditional or innovative - come to this non-threatening, paper and glue stick workshop and explore the design elements you need to make all your good craftsmanship worthwhile. Slides of quilts as examples of the design principles we will study.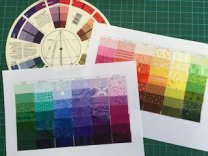 COLOR EXPLORATIONS I

Workshop Format: 1 day

Description: In this one-day class, make a 7-value chart for 12 colors with a kit, a colorwheel, learn a color vocabulary, and put traditional as well as unique, individual color schemes for later use in a notebook. Start learning to identify relative value in color and see a demonstration using paint to make different values, and tones of colors.