Welcome
WELCOME! Lorraine Torrence Designs offers patterns, fabric, books, ideas and more to help, teach, and inspire you in your quilting making and creative Garment making. Join me here for learning, fabric lust, and love of everything fiber!


Email List
Subscribe to my new email list to read about upcoming classes and special events, sales on patterns and other merchandise, design lessons, and even technique how-tos!
Subscribe
February, 2019
A belated

Happy New Year to you all! My New Year's Resolution is to start using some of my favorite fabrics NOW to make clothes and quilts. I all looking ahead and trying to predict my remaining productive years and believe me, even if I were 30 years old (which I am way beyond!,) I could not use all of my fabric stash - even the best fabrics in it! I encourage you all not to wait. Don't be afraid to cut into that most treasured fabric and USE IT! After all, what do you think your kids are going to do with it? Happy Sewing!!
Calendar
Be sure to check out the newly formatted and updated calendar/schedule with upcoming classes and events listed, including descriptions, locations and links to pages where you can register! http://www.lorrainetorrence.com/schedule.htm
Patterns of the Month
Through the end of March, 2019, we are featuring another three patterns for you to try out at a 25% discount! Lorraine Torrence Designs pattern, Zip Line Coat, is an easy to make, 3/4 length coat pattern in 2 views, designed by Peggy Juve, with panels in the front and back perfect for featuring your favorite technique or specialty fabric, Grainline Gear's Noren Ensemble, designed by Ruth Vincent, which includes two lengths of an Asian-inspired jacket, a blouse and a pant pattern, all in the same pattern. The unifying design element is the split layer in the jacket backs, sleeve cuffs and pants hem, reminiscent of split curtains, called Noren, hanging in Japanese windows and doorways. In Fine Shape, from Lorraine Torrence Designs Quilt Pattern Series, designed by Bonny Brewer, is a clever children's pattern with faced shapes in separate layers forming pockets for children to put their fingers inside or hide matching shape cards or other treasures. The new patterns of the month will continue to enjoy the Pattern of the Month spotlight until the end of March! Just click on the pattern name above to buy it!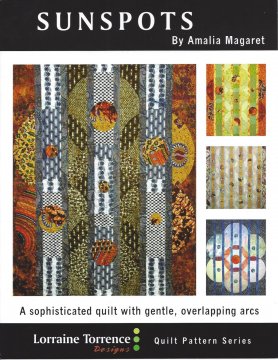 DVDs

My Sewing With Nancy videos, Fashion Sewing: Plain to Fabulous from the two Shows, which aired in January of 2017, are still available in the Wisconsin Public Television website. You will also find a DVD of the two Fashion Sewing: Plain to Fabulous shows on this website for the August reduced price of $10!